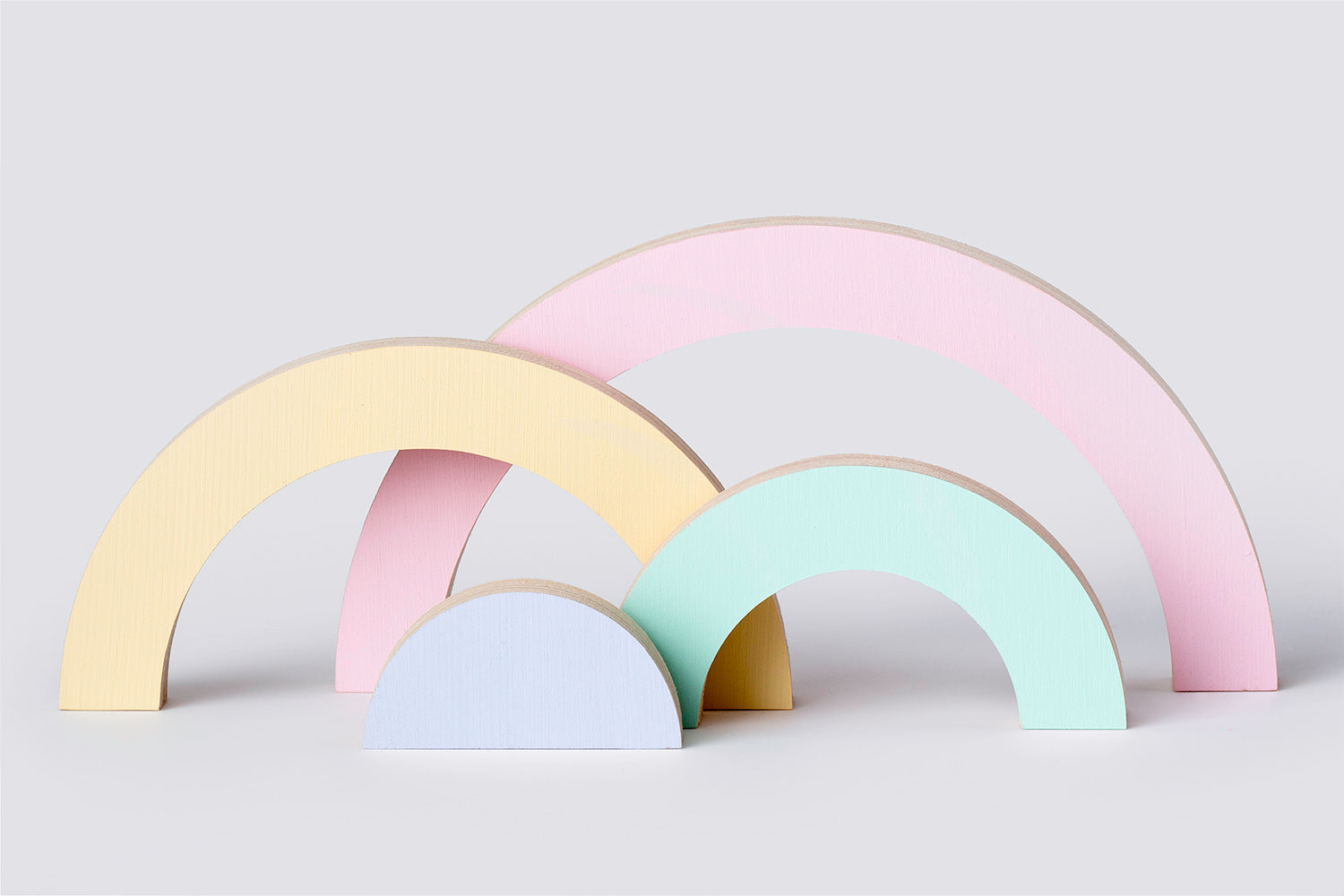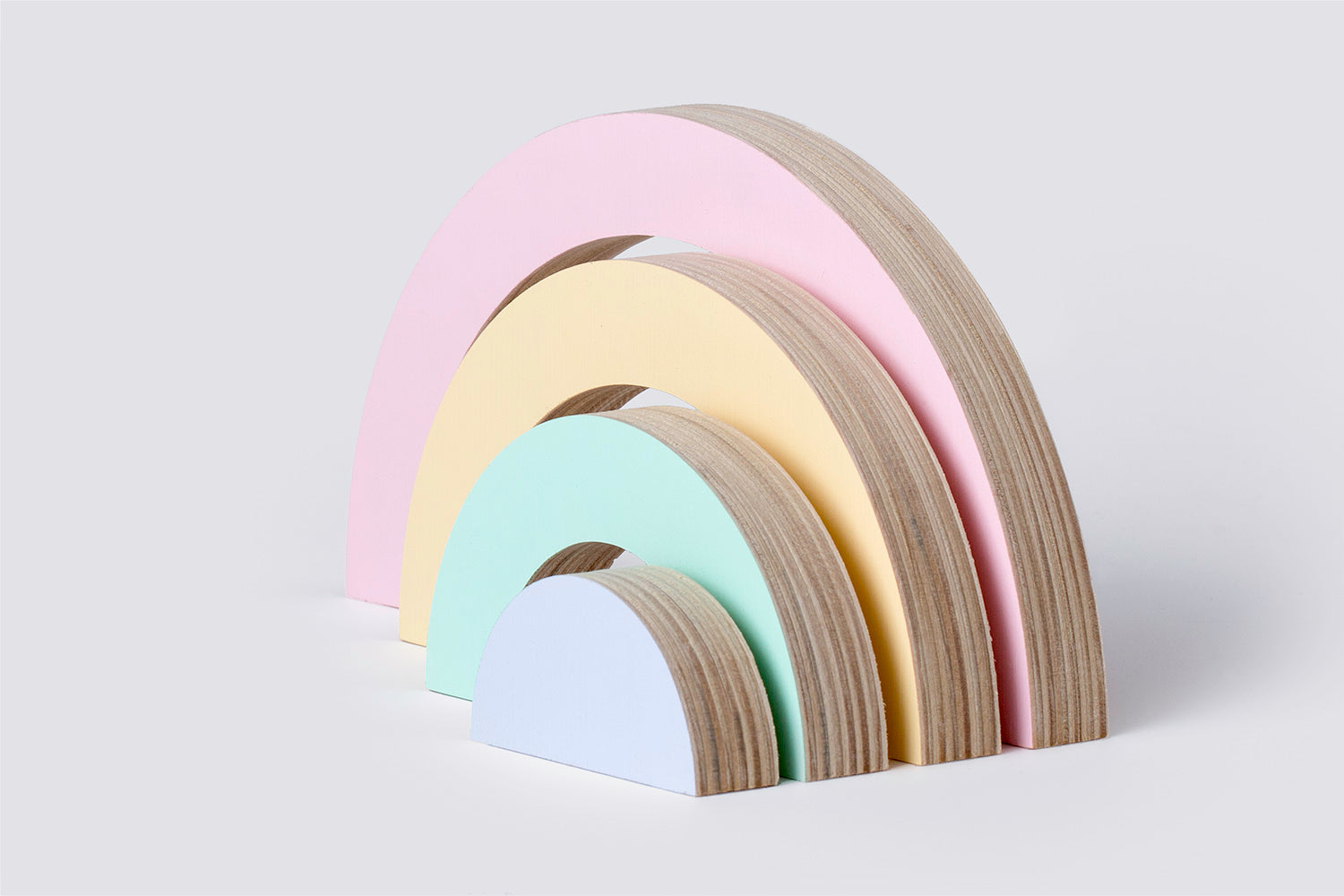 Pastel Rainbow Stacker – Wooden Rainbow Toy Set
Hand-painted in gorgeous pastel colors, our Pastel Rainbow Stacker is a perfect treasured gift for kids and adults alike. You can creatively play, stack, stagger and of course dreamily stare into our beautiful pastel colors all day.
Designed to fit perfectly on our Australia Wall Shelf and Treasure Board collection, our rainbow stacking toy complements and sits alongside our Australian furry friends from the Little Aussie Treasures collection.
The wooden rainbow stacker is handcrafted and hand-painted in Australia with expert love and care. They are also available in Primary and Natural plywood colorways. It can be used for Montessori and Nursery room décor as well as a playful toy for kids. Great keepsake gift ideas for kids birthdays, and more occasions!
Why choose Pastel Rainbow Stacker from One Two Tree?
Each wooden product is handcrafted in Australia with

 

World Wide Shipping.
The wood is Hoop Pine from a certified sustainable source in Australia.
Child-friendly.
Eco-friendly and Sustainable.
SPECIFICATIONS:
Length 21.5cm
Height 10.5cm
Width 1.8cm
Weight 220gms
Arrives with a gift bag.
Pastel Rainbow Stacker – Wooden Rainbow Toy Set
FAQ
How do I take care of my Christmas Tree?
While our tree is easy to use and child friendly, it's important to keep it clean, especially if it's in prolonged use. To clean your tree, use a dry, lint-free cloth from cotton or another material.
Alternatively, the cleaning is carried out with a clean, damp cloth with water and then tried with a lint-free cloth.
How else can I take care of my Christmas Tree?
Direct exposure of wooden products to sunlight may be harmful to the tree. So it is best, to keep the tree indoors and at least one meter away from a direct source of heat 
(heaters, radiators, fireplaces, etc.).

Will my product wear out after repeated use?
Excessive use of any product may not affect the overall quality of the product, especially if care for it is ensured. Damage to the product may happen, incase the tree is mis-used while assmbling.
Can I exchange my product, incase I am not satisfied with it?
In case of any requirement to exchange an item, send us an email at info@onetwotree.com.au

Shipping
Estimated Shipping Time
Shipping cost and delivery duration depend on the region. It normally takes 2-3 business days for the product to reach the customers within Australia.
For shipment in the rest of the world, it normally takes up to 5-7days for delivery service.
Return And Exchange Policy
Your satisfaction with our product and our services is extremely important to us.

We are well aware of how intimidating it can be to shop online, which is why we are here to help you at every step and make it extremely easy for you.
Refund and Exchange Guarantee
In case of any requirement to exchange an item, send us an email at info@onetwotree.com.au
Following 3 days of reception of the product, no way of refund of the product shall not be processed. In case of any genuine issue, you will be required to contact us asap.
We surely know the
True Spirit of Christmas
With a range of high-quality trees and beautiful ornaments for decoration, It's time to replace those old Christmas trees and bring a modern one!